sUAS Services
Apex's drone mapping system captures high resolution geo-referenced multi-spectral images from NDVI Red+ NIR (normalized difference vegetation index red plus near infrared reflectance) sensors. Our multi-sensor system measures biophysical and biochemical alterations in vegetation creating a reflectance NDVI signature.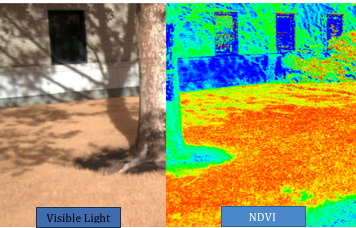 Apex acquires thousands of geo-referenced images from drone-mounted NDVI Red + NIR and Visible Light sensors. Our drones are capable of flying at slow speeds and low altitudes with 70% front and side overlaps taking high resolution images every two seconds. These files are processed and stitched into a single ortho-mosaic image for monitoring surface changes through quantifiable data. The data are used to identify and maintain oil and gas property sites, confirm healthy and/or damaged crops, Chemical/Oil Spills or environmental restoration projects. Preflight missions are saved for repeated time lapsed updates. Effected areas are mapped, planimetered and documented. Results, can be imported to GIS, Geological or Geophysical workstations for further evaluation.
Apex is currently flying drilling locations, 3d seismic acquisition sites, crop damage sites and environmental restoration projects. Our licensed Remote Pilot in Command (Remote PIC) along with our Visual Observers are highly trained professionals in the sUAS field. Give your company a strategic solution with early planning and innovative techniques.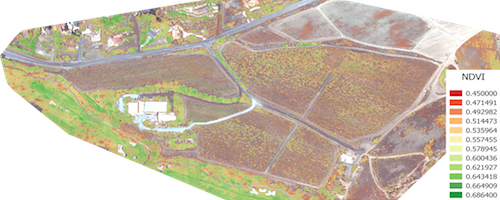 NDVI Agriculture Analysis